Welcome to the Susquehanna Valley TimeBank!
We're so glad you're here! Click here to become a member, or READ ON to learn more about us!
What is a TimeBank?
A timebank is a network of people who exchange services with others in the group - for free! For each hour a member spends providing a service, an hour is "banked" in their account. The member can use this hour of credit later to access a service provided by any other member, not just the member they worked for. In other words, each hour of service provided is logged and becomes the unit of "currency" that "purchases" other services.

No money is exchanged, just services.

Timebanking with a network of people has many advantages. Unlike a direct trade between two people (like if I cook you a meal for 1 hour, and you pay me back by organizing my files for an hour), timebanking allows members to trade among themselves, not necessarily reciprocating with the same person.

It's similar to how money works. With money, if you earn $100 from your job at a restaurant, you don't have to spend that $100 at that restaurant; you can spend it anywhere that money is accepted. It's a similar concept with timebanking - you can "spend" your time "dollars" on services from any member, not just the member for whom you worked to earn it.

Like a bank that helps you track how much you have spent and earned and how much you have available at any given time, the timebank helps you keep track of your available and owed time dollar balances.

Here is a great illustrated example of how this process works (from the Pagosa Springs timebank in Colorado):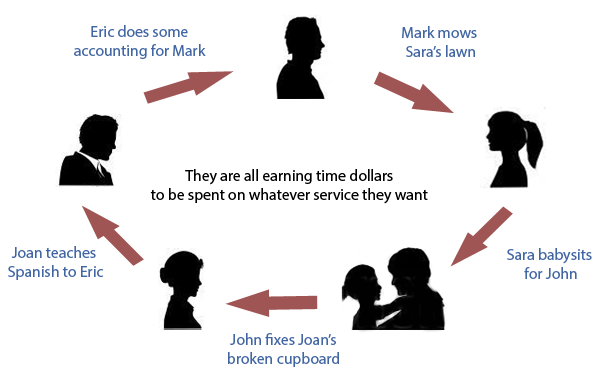 What types of services are available?
Available services depend on what our members are willing to share with each other, and therefore vary as new members join us. Some of the current offers and past exchanges in our pilot timebank include cooking, car detailing, transportation, work for the TimeBank (logo design, serving on the Steering Committee, serving as a members coordinators), music lessons, organizing, assisting with a private party, knife sharpening, and gardening.
What if I feel I have nothing to offer?
We all have something to offer. TimeBank members often exchange simple everyday activities, share a hobby, or teach a new skill. We suggest that you offer something you love to do. The beauty of timebanking is that you can replace the time you spend doing chores you dislike with doing activities you enjoy, as well as helping someone else and forming a new relationship.


Benefits of Timebanking
Timebanking has many benefits! Members' lives are enriched. Services are offered and received – everyday tasks such as gardening and household chores can make a big difference in a household. But your participation also provides the "grace notes" of life: companionship, a cup of coffee and a tasty treat, an educational experience, a book. Helping someone else is rewarding, receiving something you need is a joy, and connecting with your neighbors and community can provide inestimable pleasure.

We all have something to offer others, and we all need help sometimes. Neighbors helping neighbors can help us to:
Boost community
Make friends
Feel a sense of purpose and the rewards of helping others and sharing talents
Access services that might otherwise be out of reach
Make the difference that allows someone to continue to live independently at home
Save money
Relieve hesitation that some might have about asking for the help they need
Give others the opportunity to recognize the value of their contributions
Events
Stay tuned for our upcoming events!
Monthly orientations and monthly potlucks coming soon!
Learn More
There are timebanks all across our country and around the world! We're so excited to be part of this international movement and to learn from the ways other timebanks work. Here are some great examples and resources for more information on timebanking.
VIDEOS:
A 700-member Time Bank in Central Vermont
TedTalk from HourExchange Portland
Excerpt from PBS Documentary "Fixing the Future" ("In Maine, Service Time Swapped to Help Stretch Dollars in Recession")
ARTICLES, BOOKS, WEBSITES:
NPR Interview with Edgar Cahn - "Beyond Bartering: Banking on Community Connections
No More Throw-Away People: The Co-Production Imperative by Edgar Cahn (BOOK)

Members Quick Guide:
Rights and Responsibilities

As a member of Susquehanna Valley TimeBank, you have the right:

to be treated with dignity, fairness and respect 

to have your personal information kept confidential 

to say no to an exchange for any reason
As a member of Susquehanna Valley TimeBank, you have the responsibility:

to evaluate for yourself the competence of anyone providing a service for you

to establish a comfortable level of trust with time bank members you are working with

to only offer services you are competent to perform

to indicate whether or not you were satisfied with a service given to you and whether you would be willing to provide a reference

to pay for any parts, supplies, ingredients or materials that are used to provide a service to you

to follow through on your commitments

to be properly licensed and insured for any service that requires it

to operate on the right side of the law

to stay safe and make sure other members stay safe


How to Use the Time Bank with Grace and Confidence 


Make sure your profile is complete and up to date.
Your profile is your introduction to other members of the group. Include a few sentences in the "My Bio" section and add a profile photo. If you have trouble uploading the photo, let an administrator know and we can add it for you.


If you change your email or phone number, log in and visit the "My Contact Info" section to change it.


If you'll be unable to provide a certain service for a while, remove it from your profile. You can always add it back later. If you're going to be completely unavailable for a while, let an administrator know; we can make your account inactive so other members won't try to contact you.


Offer some services.
These can be just about anything! If it's legal and would be of help to someone, it's fair game. We recommend browsing through the "Add Services" section to find ideas. Add services you'll enjoy performing; it's a lot more fun to respond to requests when you know you'll have a good time.


When you describe your service, make sure you accurately represent your abilities. If a service requires a license to perform – driving, for instance, or giving medical/legal advice – only offer that service if you're licensed to perform it.



Examples:

Classes/Lessons/Tutor: Cooking Lessons
 - It's summer: let's get grillin'! Let me show you how to avoid burning the pork chops.

Pet Care: Misc. Pet Care
 - I'm a certified Veterinary Technician, and if you have a pet who doesn't seem to be doing well, I'd be happy to offer my opinion about whether the problem warrants a trip to the vet.


Request some services.
These can be just about anything! If it's legal and would be of help to you, it's fair game. You can ask for help with one-time projects or to meet ongoing needs. You can also think of the time bank as a pool of potential labor for big jobs like moving, painting, or throwing a swanky party.


Examples:

Computer: QuickBooks - 
I've just started a home business, and QuickBooks is giving me nightmares. Please help.

Garden/Yard: Compost Advice/Training
 - Why is my compost pile full of slime and bugs?


It's okay to go into "debt".
We've all become accustomed to dealing with money, so we can feel a little panicky when our time bank balances slip below zero. But time banking is not the same as money banking: it's expected that, at any given time, roughly half of the members will have a positive balance (meaning they've given more than they've received) and half will have a negative balance (meaning they've received more than they've given). That's okay! That's the way it's supposed to work. If you continue being active in the time bank economy, both giving and receiving, everyone's balance will eventually come back to zero.


It's important to remember that people like to help, but no one can help unless someone else is willing to be helped. The time bank depends on reciprocity, not charity. By receiving services through West Sound Time Bank, you're allowing your neighbor to give, which is in itself a gift.


If your account reaches -25 hours, an administrator will contact you to see how things are going for you. The time bank shouldn't get too far out of balance, but people's lives can be unpredictable at times and there may be a specific reason you're needing more help. If you anticipate incurring a big debt as the result of a big project, contact an administrator and we can talk about how to manage it.


Be proactive about making connections.
Don't sit by the phone waiting for someone to call you – contact them yourself! This goes double for new members: the other members don't know about you yet, so even if they can help you or need your help, they won't know to contact you. You must contact them.


Feel free to go shopping for services people have offered or asked for. You may find a connection that appeals to you that you hadn't thought of before.


Respond to contacts as soon as you can, ideally within two days, even if your response is to say no. It's discouraging to write to a potential service provider/receiver and not hear back.


If you've tried to reach someone unsuccessfully – it's been several days, and you've made several contacts via both phone and email – let an administrator know. We'll try to reach the person and confirm that they still want to be a member of the time bank.


Before you provide or receive services, be sure everyone involved knows what's expected...
...what work needs doing, how long it might take, what supplies might be needed. The service receiver is responsible for any costs incurred, including gas money if appropriate. If the provider has to travel a long way to help you, you might also consider including their travel time in the hours exchanged. Negotiate these things before you begin.


The service provider is responsible for recording the hours on the website.
The software allows either person to record the transaction, but the one who's earning the hours by providing a service is probably the person who has the most interest in getting it recorded promptly. Of course it's fine for the receiver to record it if that works best for both of you.


In a time bank economy, everyone's time is valued equally.
No matter what the service is, one hour of work equals one hour on the computer program. Please resist the temptation to fudge the numbers – either up or down – to reflect what you think the monetary value of your service would be.


The program allows for recording in quarter-hour increments. For example, if you worked for one hour and 45 minutes, you would enter "1.75" in the "Number of Hours" box.


Show your appreciation.
If you've received a service, you'll get a message on your News and Messaging page notifying you when the provider has recorded the transaction. Then you'll have a chance to indicate whether or not you were satisfied with the work that was done for you. The answer defaults to "Yes", so you would only change it if something went wrong...


...But it would be better to work with the other member and try and make it right. Maybe they didn't understand what you wanted, or maybe they tried their best and their best didn't meet your expectations. Keep in mind: we're neighbors helping neighbors, and not all of us are trained professionals.


You can also indicate whether or not you're willing to serve as a reference for that person. If you answer "Yes", other members may contact you to ask about your experience. The time bank thrives on our confidence and trust in one another. A recommendation is a great way to show the community that a person can be trusted to do a good job.


Be respectful of other people.
Be patient rather than critical, accept guidance gracefully, respect each other's different beliefs or ways of living, and be kind.


Keep any appointments you've set. If you have to cancel or reschedule, contact the other person as soon as possible.


Don't ask for money unless it's to reimburse an expense directly related to a service you've provided, and don't solicit tips.


Keep other members' lives and personal information confidential. Use the messaging system and members' contact information only to set up exchanges, and don't use the eBlast function to spam us all.


Be respectful of other people's space: If you're providing a service at someone's home, know that you're a guest there and behave accordingly.




Establishing Trust with Other Time Bank Members


Some of the transactions you'll have with other time bank members will be in your home. Here are several suggestions for making that a comfortable, safe experience:

Check the number of services that have already been satisfactorily provided to other time bank members. At the top of each member's public profile page, next to the photo, you'll see a list of the number of services provided and received and how many members were happy with the services that this member provided.


Check the references that time bank members offer to give after a service is completed. After time bank members receive a service, they can indicate their willingness to give a reference for the member who provided the service. On the member's public profile, you'll see a heart icon next to a service where a reference is provided. Hovering the mouse over the heart pops up a list of those willing to provide a reference. Clicking on the heart brings you to a page where you can email each reference provider (one at a time).


Meet other members in a public location before scheduling a transaction. Before you schedule a service, go someplace neutral and get to know each other. SV TimeBank has events scheduled throughout the year. These events are a great place to meet other time bankers but a café works fine, too.


If Something Goes Wrong


If there's an accident or emergency, call 911 right away.


You also have the right to contact the police to report a crime.


If another member has treated you badly in any way or done something illegal or dangerous, let an administrator know. While the SV TimeBank is primarily here to facilitate connections and not manage them, we'll do what we can to help resolve the situation. 

Anyone who abuses the time bank or its members may have their account suspended or their membership revoked.
Questions? Ask us!
Did you get this far? Yay! We're excited you're interested in our timebank. If you have any further questions, get in touch with us! We'd love to hear from you.

--------
Editor's Note:
A portion of this guide was written by and used here with kind permission from the West Sound Time Bank, www.westsoundtimebank.org - a fellow timebank who has a way with words.